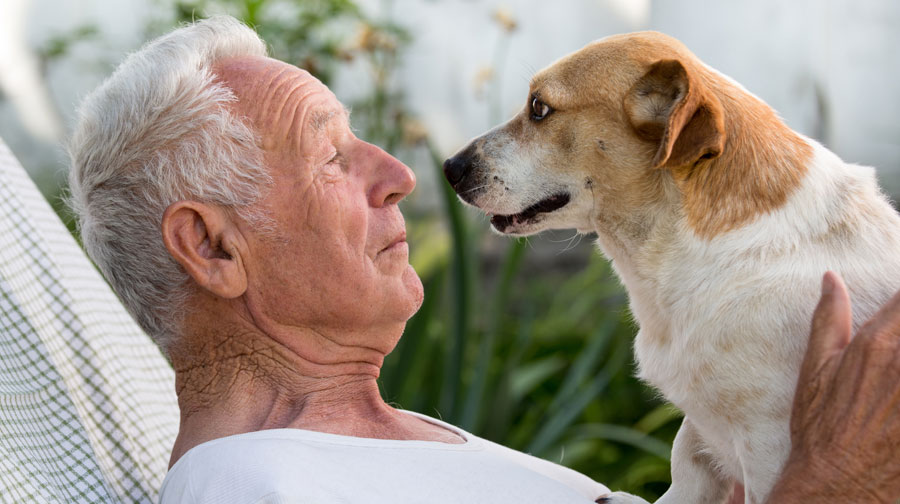 Six reasons why pets matter for the elderly
It's no secret that our furry friends add more than just companionship to many people's lives, but did you know that they can be particularly helpful to the elderly?
For starters, pets can offer a sense of companionship to aging individuals. Many seniors feel isolated, secluded and lonely, but a playful pet can bring seniors the feeling of comfort and joy. Along with increased mood, pets benefit from increased activity, improved cardiovascular functioning and a reduced risk for being overweight.
Here are 6 reasons why the elderly need pets and why they will benefit from the elder animal relationship:
---
1. Animals Increase Physical Activity in Seniors
It is so important for seniors to walk or exercise each and every day. A research published in the American Journal of Preventive Medicine, dog owners walked an average of 2.2 hours more per week than those without a dog. This is just one way that owning a pet will get seniors up and out of their homes and engaging in activities.
2. Animals Provide Emotional Support
Above all, animals provide companionship to their owners. Owning an animal can provide seniors with the love and validation they need to feel a sense of acceptance.
3. Animals Help Improve Cardiovascular Health
Pet owners naturally have lower blood pressure, healthy cholesterol level and better heart health. Research published in the American Journal of Cardiology says that "heart attack patients are four times less likely to die if they have a dog."
4. Animals Offer Companionship
As life goes on, and the elderly suffer the loss of friends or a spouse, they can begin to feel alone. Owning a furry friend can fill the whole that once was. They can also help in social settings, like doing to dog parks and daily dog walks.
5. Animals Help with Weight Control
Pet owners tend to be more physically active than those who do not own pets. Dog walking, for example, is associated with a lower BMI
6. Animals Help with Emotions
Unfortunately, many elders do not get the convenience of having friends and family around to interact with. Having an animal to pet, play with or interact with can help with emotional interaction. Touch is an important factor in human interaction and an animal can serve this if the senior is living alone.
As long as your family member is physically able to care for a pet, it is a wise idea for family members to talk about owning a pet. Pets have a wide variety of positive attributes and enhance the lives of many.
Find a location that offers In-Home Care near you
All locations that offers In-Home Care
Relevant Conditions & Treatments